This morning I was interviewed by the Coast FM Breakfast Show team and asked to pick a high and low-end priced gin for them to compare, and answer the question – "Is there any difference in quality between low and high-end priced gins?"
The interview was super edited, so I want to share my picks and why I chose them here. But first I'll cover off the opening questions about quality and price.
This is such a difficult question because one person's perception of quality can vary dramatically from another's. That's because quality is a function of:
measurable attributes (volume, abv, botanical weight),
sensory perception and interpretation (balance, flavour, mouth feel, appearance…) and
intrinsic values such as brand connection (packaging, stories…, recommendations from friends…
Any marketer will tell you that Price + Quality = Value. And therefore, value truly is in the mind of the buyer, so I'll leave you to decide whether it's worth paying more for one gin over another while I tell you about my picks.
MY GIN PICKS
Again, such a hard task with so many great products out there. So first I narrowed it to New Zealand made, then to ones that use predominantly native ingredients and finally chose ones at suitable price points.
TOP $$:
LITTLE BIDDY GOLD
REEFTON DISTILLERY | 43% | $169
This gin is distilled with local botanicals, many foraged from the Westcoast rainforest. One of the more unusual ones is snow moss/lichen (Cladia retipara), which is responsible for an earthy mineral finish. Kahikatea tips and toatoa leaves contribute to the wonderful NZ rainforest aroma and flavour notes. Warm wasabi-like heat comes from watercress.
In addition to the hand foraged botanicals and the small-scale craft distillation, Little Biddy Gold label is made with a grain spirit distilled by Reefton. This base spirit is superb, providing texture and excellent mouth-feel. If you get a chance, compare Reefton's Wild Rain Vodka next to any $40 vodka and I guarantee you'll taste/sense the difference in spirit quality.
It's this base spirit, coupled with a well-balanced botanical bill that makes Gold Label a premium gin – with a price tag to match.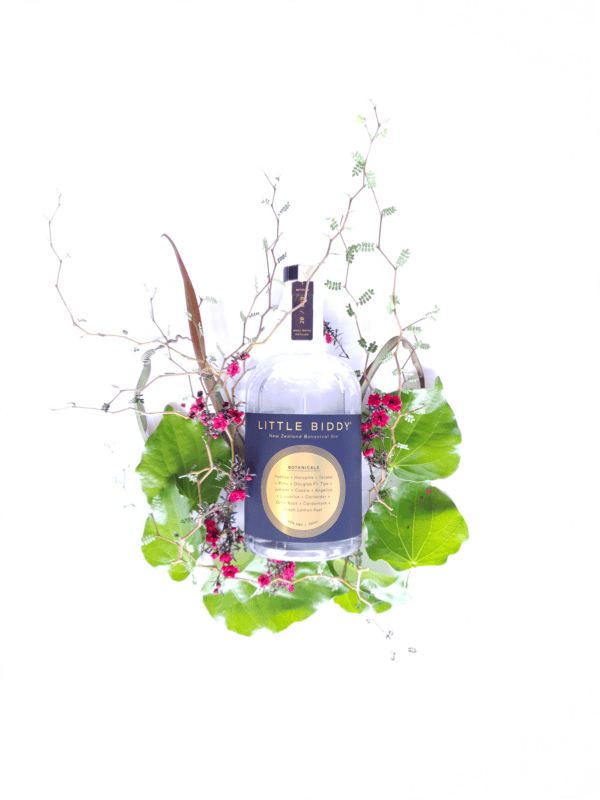 Pictured Little Biddy Classic – I don't have a bottle of Gold to photograph :(.
MID $$:
ROOTS DRY GIN
ELEMENTAL DISTILLERS | 45% abv | $89
This gin is exemplary in its simplicity – only six, fully traceable botanicals construct a delicious flavour profile.
Roots picked up Gold two years in a row at the NZ Spirits Awards, and this year it also took out Best in Class for both the New Zealand and Overall (International) Categories.
Roots is a classic gin with plenty of Juniper coming through, spice and citrus comes from coriander, grapefruit and Motueka hops, kawakawa berries provide a dry peppery bite and wild forged gorse flowers provide a subtle floral top note.
SIDE NOTE:
BASE SPIRIT IN NEW ZEALAND GINS
Around 95% of New Zealand Gins are made with a lactanol-based neutral spirit. Lactanol is made from lactose, a sugar extracted from whey (a by-product from milk products).
Being made from a animal by-product it stirs up a lot of debate. On one hand it's an awesome example of sustainability and innovation, on the other it's not what some consumers, especially vegan's are thrilled to find out.
Other gin distillers buy in sugar neutral spirit (made from sugar cane products), a very few grain neutral spirit (Dancing Sands) and only two that I know of, Reefton and Cardrona, make their their own neutral grain spirit in-house.
Buying in base spirit is a great option for gin distillers given the space, time and expense needed to ferment and distil a neutral spirit in-house. But does it affect your view on their quality?
LOW $$:
NATIVE GIN
REID + REID | 42% abv | $65
I appreciate this may not be everyone's perception of low-end price, but in my humble opinion it is exceptional value for a great tasting, small-batch gin.
Like the Little Biddy, the flavours of REID + REID reference New Zealand's native plants and habitat. Where Little Biddy captures our West Coast rainforest, Reid + Reid pays homage out Manuka bush. Bright and herbaceous with a suitable hit of juniper.
Bright and herbaceous with a suitable hit of juniper.